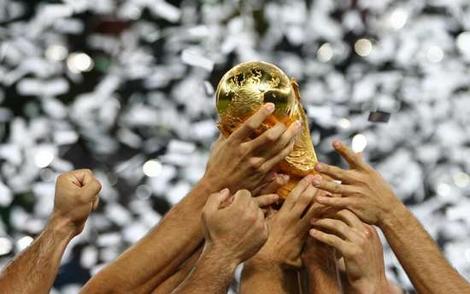 Our panel predicts the outcome of this year's World Cup from the very first group stage match, to the very final on July 13th. Here are the predictions for Iain J.
Agree? Disagree? Let Iain know by commenting below.
Group A:
Despite all of the pressure on hosts Brazil, they've waited sixty four years to host the World Cup again (see:
Brazil 1950 and the Maracanazo
) and my feeling is that they will come out flying in this group. The rest of the countries will be playing for second place, and I believe that Croatia will just about edge Mexico out.
WINNER: BRAZIL (9pts)
RUNNER-UP: CROATIA (6pts)
3rd PLACE: MEXICO (3pts)
DEAD-LAST: CAMEROON (0pt)
Group B:
You have to feel for the Australian's when you look at the sides in this group. Besides the obvious favourites in Spain and the Netherlands, the two finalists in 2010, you have a very good Chilean side that won't there to just make up the numbers. After a draw in their first match, I expect Spain to win their next two and go through with Netherlands behind them.
WINNER: SPAIN (7pts)
RUNNER-UP: NETHERLANDS (5pts)
3rd PLACE: CHILE (4pts)
DEAD-LAST: AUSTRALIA (0pts)
Group C:
An extremely open group, with Didier Drogba leading the Ivory Coast in what is almost certainly his last World Cup tournament, a Colombian side that is still a threat even with the loss of Radamel Falcao, an always tough Greek team and AFC Asian Cup holders Japan. Going into the last two World Cup's much has been expected of the Ivory Coast and they've failed to respond and unfortunately I see them struggling again in Brazil. Japan, in my opinion, should have enough quality in their side with Shinji Okazaki, Keisuke Honda and Shinji Kagawa to top the group, with Colombia joining them in the Round of 16.
WINNER: JAPAN (5pts)
RUNNER-UP: COLOMBIA (4pts)
3rd PLACE: GREECE (3pts)
DEAD-LAST: IVORY COAST (2pts)
Group D:
So much of this difficult looking group may be determined on the first match day. If a winner emerges from the England and Italy match they will take a stranglehold on the group. I expect Costa Rica to give the other three sides problems, but will finish bottom in the group. Uruguay, depending upon a half fit Luis Suarez, will just miss out behind Italy and a young England side.
WINNER: ITALY (7pts)
RUNNER-UP: ENGLAND (5pts)
3rd PLACE: URUGUAY (4pts)
DEAD-LAST: COSTA RICA (0pts)
Group E:
Heading into a major tournament you never know what to expect from the French. They have the talent to go far, but the personalities to implode and go home early in disgrace. Even though they've lost the talented Franck Ribery, I still expect France and Ecuador to emerge from this group.
WINNERS: FRANCE (7pts)
RUNNER-UP: ECUADOR (5pts)
3rd PLACE: SWITZERLAND (2pts)
DEAD-LAST: HONDURAS (1pt)
Group F:
Argentina, on paper, couldn't have been handed an easier group than this. Messi and company will said through with 9 points, while I expect Edin Dzeko's Bosnia to ease past African Cup of Nations holder Nigeria and the inexperienced Iranians.
WINNER: ARGENTINA (9pts)
RUNNER-UP: BOSNIA and HERZEGOVINA (4pts)
3rd PLACE: NIGERIA (2pts)
DEAD-LAST: IRAN (1pt)
Group G:
Labeled as the "Group of Death", there's little doubt that this is the most difficult group to pick two qualifiers from. Germany should have the required quality in their squad to progress, as Miroslav Klose attempts to become the record marksman in World Cup History. Portugal, led as always by their talisman Cristiano Ronaldo should have enough to join the German's in the next round.
WINNER: GERMANY (7pts)
RUNNER-UP: PORTUGAL (5pts)
3rd PLACE: GHANA (2pts)
DEAD-LAST: USA (1pt)
Group H:
Belgium seem to be everyone's dark horse side at the moment, and considering the quality players they have spread throughout the big leagues of Europe it's not impossible to understand why. They'll get through the group with surprise package Korea Republic joining them in the next round over Russia and Algeria.
WINNER: BELGIUM (7pts)
RUNNER-UP: KOREA REP. (6pts)
3rd PLACE: RUSSIA (3pts)
DEAD-LAST: ALGERIA (1pt)
Round of 16:
BRAZIL vs. NETHERLANDS (Brazil win 2-0)
Brazil should have no problems easing past the Netherlands and into the Quarter Finals with their home support roaring them on. Neymar and company will withstand some tough play from the Dutch, with goals either side of half time to progress.
JAPAN vs. ENGLAND (England win 1-2)
England overcome an early Japanese goal to ease their way through to the Quarter Finals in a tense encounter. The Three Lions pace and physicality sees them past the technically gifted Samurai Blue.
FRANCE vs. BOSNIA and HERZEGOVINA (France win 3-1)
Les Blues' prove far too much for Bosnia as their pace rips the Eastern European side to shreds, as they progress in the tournament.
GERMANY vs. KOREA REP. (Germany win 1-0)
Korea proves a tougher test than Germany expected in this Round of 16 matchup. The Asian side holds out the Germans until the last ten minutes before Ozil sends the European side through.
SPAIN vs. CROATIA (Spain win 2-1 AET)
Croatia take Spain into extra time, but despite coming close to knocking out the defending European and World Champions, the Spanish side prevail.
ITALY vs. COLOMBIA (Colombia win 1-2)
Italy's aging side is finally undone by a moment of madness by Mario Balotelli as he sees red early in the second half, as Colombia presses their advantage and gets through to the Quarter Final.
ARGENTINA vs. ECUADOR (Argentina win 3-0)
Argentina has no problem sweeping aside South American rivals Ecuador as Messi finds the net twice and Angel di Maria once as they power their way to the win.
BELGIUM vs. PORTUGAL (1-1, Belgium win on PK)
A half fit Ronaldo can't drag Portugal any further in the tournament as they see an early lead evaporate and then go down on penalty kicks.
Quarter Finals:
BRAZIL vs. ENGLAND (Brazil win 2-0)
England, who have defied expectations by even reaching this stage, are no match for the hosts as Neymar find the net twice.
FRANCE vs. GERMANY (Germany wins 2-1 AET)
A tense and often physical encounter between the two European sides is won by Germany deep into extra time.
SPAIN vs. COLOMBIA (1-1, Spain win on PK)
Colombia take the World Champions to the limit in this gripping encounter, but in the end their nerve holds in the penalty shootout as they book their passage into the Semi Finals.
ARGENTINA vs. BELGIUM (Argentina win 2-0)
Despite a terrific run in the tournament, Belgium come up against a rampant Argentina side who see them off comfortably.
Semi Finals:
BRAZIL vs. GERMANY (Brazil win 2-0)
A rematch of the 2002 final, and the result is the same as Brazil book their place in the final.
SPAIN vs. ARGENTINA (Argentina win 1-2)
A thrilling Semi Final sees Argentina end Spain's reign as Champions in the Semi Finals with Aguero scoring a dramatic goal in the last five minutes to see Argentina through.
3rd Place:
GERMANY vs. SPAIN (Germany win 3-2)
The second string players get a run out in a surprisingly entertaining and very open 3rd Place match, as Germany takes third spot in the tournament.