When we look back at the 1994 World Cup in the United States there were many great performances by some of the great players from that generation, but no player had greater performances than Romário.
Known in Brazil as "Baixinho" (little one), Romário is the main reason why Brazil was able to win that years tournament and add the fourth star to their jersey.
Going into the 1994 World Cup, Brazil were looked at as one of the heavy favorites to win the tournament, with a roster that included Dunga, Bebeto, Romario and a very young Ronaldo, what else could you expect from this team, but a trophy? What some were not expecting was for Romário to have a tournament where he was so dominating and above all others. Let us take a look at his road to glory and how he became a World Cup Hero.
Brazil was slotted in group B with Sweden, Russia and Cameron. This was by no means an easy group. Russia always comes into the World Cup with strong squads, Sweden had a mixture of youth and experience in players like Larsson, Dahlin & Brolin and Cameron had been the surprise of the 1990 World Cup and were looking at once again reaching the round of 16.
Brazil countered with the partnership of Bebeto and Romário, and how much of the success of Brazil was due to that partnership or to the incredible genius of Romário is something that we will never know for sure, but Romário impact was immediate and noticeable.
First group game for Brazil was a against Russia, and Romário scored the first goal in the 28th minute to give his team a 1-0 lead. Brazil would score a second goal in that game and would go ahead of the group with 3 points after a 2-0 win against Russia. Brazil second game was against Cameroon, and once again Romário led the charges and scored in the 39th minute to give his team the lead.
This was one of his best games in the group stage, but undeniably also one of their weakest opponents. Brazil had now 6 points after two games and had already qualified for the round of 16 but next was coming a game against Sweden that would surprise the world.
Sweden's super sub Kennet Andersson scored the first goal of the match and gave his team a 1-0 lead at halftime. Brazil had one of their hardest matches in the tournament group stages and really a baramoter to what was coming next. Having a very difficult time breaking through the Swedish defensive lines throughout the match, it took until the 46th minute for Romário to have a play of genius and use his speed and short dribble and score a goal that those defenders are still wondering how was it possible for one player to make it pass 6 of them and score with a subliminal touch.
The game ended in a 1-1 draw and placed Brazil on top of group B with 7 points. Romário had managed to score in every group game and go into the round of 16 with 3 goals. Next opponent in the round of 16 would be the hosts USA.
Romário came into that game wanting to prove he was going to be to Brazil in 1994 what Maradona had been to Argentina in 1986, and while he didn't score in this game he made Lalas look like an old man with an incredible dribble and only the post would deny him of a memorable goal. It was another play that showed what a genius he was and how similar, not only in stature but also on what he was doing for his country, he was becoming of Maradona.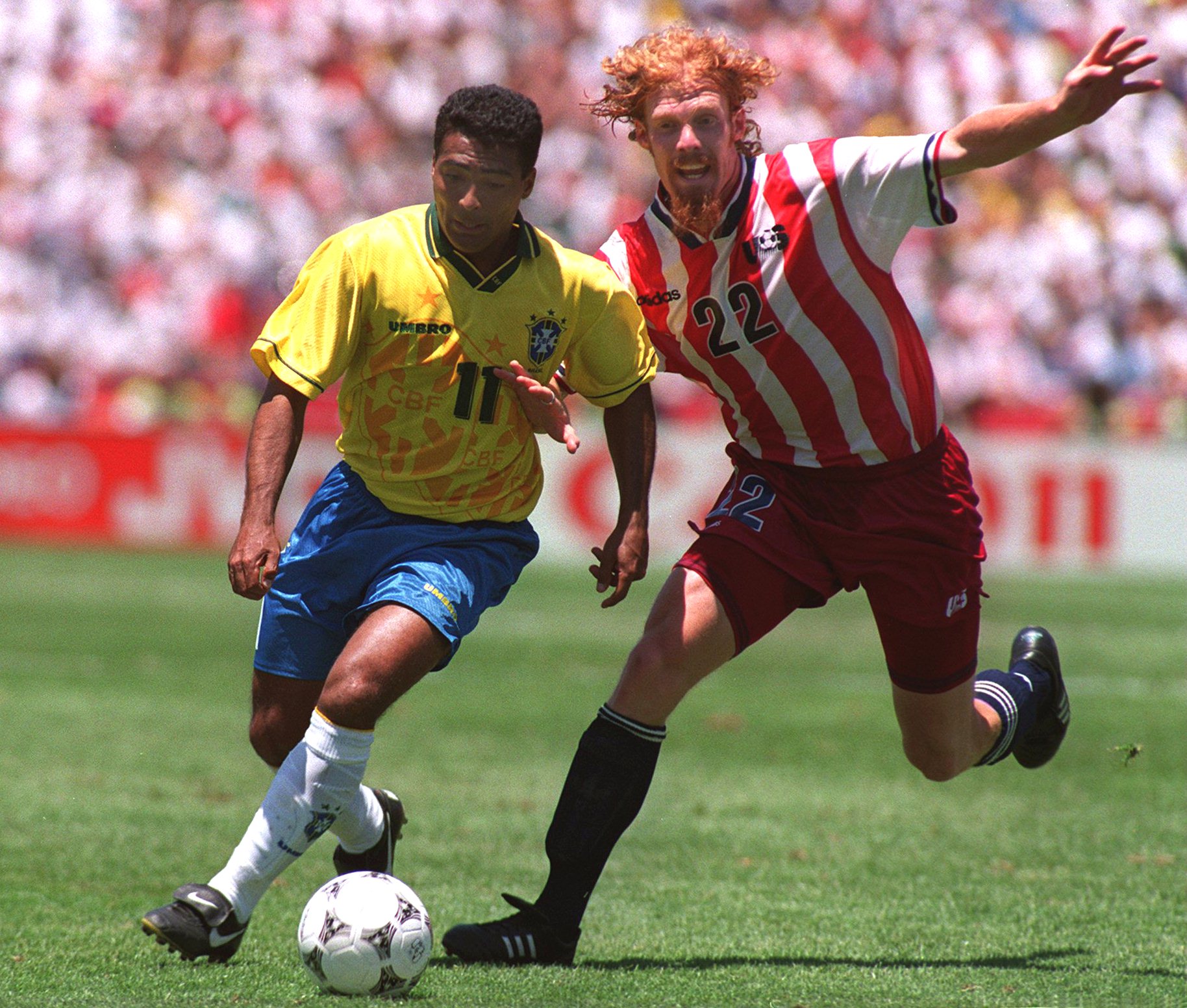 Brazil would go ahead and win the game 1-0 with a goal from Bebeto but the assist and play was once again from the genius of Romário, who got the ball in the midfield dribbled through a defensive wall and made a wonderful pass for Bebeto to finish in the left bottom corner of the net. First game he went without a goal, but not without his mark on it.
Quarter-Finals were set and Brazil would face Netherlands, and what a fire cracker of a game this would be.
After a scoreless first half Romário would once again take his team on his small but broad shoulders and give Brazil the lead. He added an assist in a game that was not great from a defensive prespective, it would end 3-2 for Brazil, but it was all that a neutral and fan of the sport wants to see. Great goals and great plays, and great artists on the field showing us their magic.
Romário had now led his team to the semi-final of the World Cup with 4 goals and 2 assists, and incredible plays that had all the fans wanting more.
This was a draining game for Brazil, up until that point that had not allowed more than a goal in a game, and defeating this Netherlands team was no easy task, this would leave marks and those marks would be felt in the semi-final matchup against Sweden that had tied Brazil during the group stages.
Going into this semi-final the general feeling was that if there was one team that could beat Brazil was Sweden, and that it would take a super Romário to get Brazil the ticket to the final.
The game was very close, both teams were more worried with defending than attacking, and it looked like we would be heading to added time when Romário scores the winner on a header. Yes, you read it right, a header. One of the shortest players on the field if not the shortest scores the semi-final winning goal on a header.
Brazil was in final and Romário had just scored his 5 goal of the tournament to go along with 2 assists.
The final was set, and Brazil would be facing Italy in what was expected to be a classic game played between the 2 best teams in the world at that time.
The final was a very tactical game with both teams very worried about their defensive strategies. Both teams created chances but nobody really did enough to deserve the lead, and it was obvious that only a stroke of genius would break the scale, otherwise we would have to go to penalties to decide the winner.
After 120 minutes it was the dreaded penalties that would decide the 1994 World Cup winner.
Romário converted the second penalty for Brazil, and with Roberto Baggio missing the dreaded 5th penalty for Italy, Brazil was the 1994 World Cup winners. Amazing that after 20 years this World Cup final is remembered more by the Baggio penalty miss than by anyother thing, a shame really. Baggio had a wonderful tournament and Romário imitated 1986 Maradona with an incredible tournament and trophy to cap it all.
Romário was voted to the All-Star team of the tournament and also won the Golden Ball (MVP of the tournament). This was his first and last World Cup with Brazil, but his story and legend continued at the club level. He is believed to have scored over 1000 goals in his career, a feet only matched by Pele and Puskas.
A true genius, and to all Brazilians a World Cup Hero.